News
May 31, 2017
"Spring Migration 2017!"
I again was fortunate to spend 2 weeks in southern Ontario during the 2017 spring bird migration. As in 2014, the bulk of my time was spent in Point Pelee National Park, Wheatley and Rondeau Provincial Parks and surrounding areas. This time however I also had the opportunity to spend several days at Long Point and the nearby locations for the first time. Both Point Pelee and Long Point offered some great sightings of birds, animals, plants and scenery. As usual the park staff, Friends of Point Pelee volunteers, birders and photographers at Point Pelee were all wonderful and very helpful. Their enthusiasm for nature, particularly birds, was infectious!
I was better prepared this time when visiting Point Pelee for the Festival of Birds 2017 Edition. As a photographer, you often use long lenses, tripods and other heavy camera equipment, so it's not as easy to 'chase' rare bird sightings. I decided to spend more time trying to create better images of whatever bird species I encountered. With very few exceptions I stuck with my plan and it worked out very well for me. I got some lovely images of a number of species that I had seen in 2014 particularly the stunning Prothonotary Warbler (below). In addition I saw several new life list species including the Kirkland's and Gold-Winged Warblers, Yellow-Throated Vireo and the Eastern Fox Snake.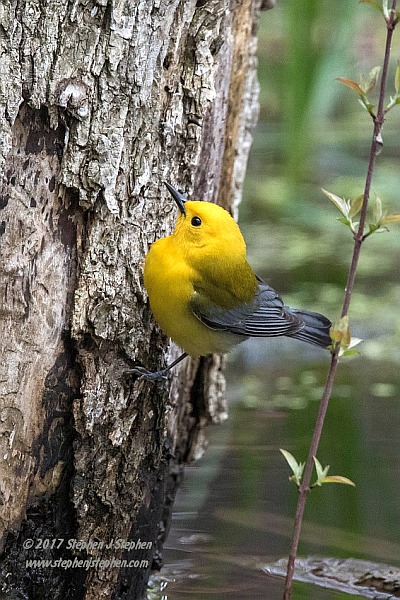 The areas around Long Point had their own rewards. I got my first images of a female Eastern Towhee, saw my first Sandhill Crane colt albeit from a great distance. I also discovered the largest collection of White Trilliums (below) that I had ever seen while visiting Backus Woods.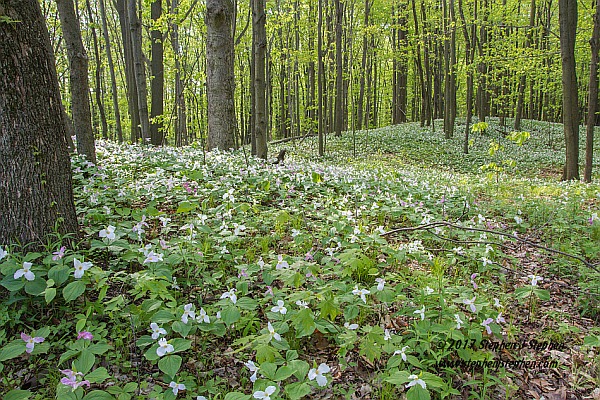 I also visited the Long Point Bird Observatory and its Old Cut Research Station. The station is open the the public and you can observe bird banding first hand as the workers examine, band and record information each bird caught in their mist nets. If you are in the area during spring or fall migration, it's certainly worthwhile to visit the station
You can view more of my Spring Migration 2017 images by clicking here.
Apr 30, 2017
March and April are challenging times for nature photography around Ottawa. The daylight is still short, although getting longer, and snow continues to linger. It is still cold most days and a long way from when wild flowers will start blooming. Days often seem grey and gloomy. That being said there are still opportunities to capture nice images. Waterfowl often have begun their northward migration and stop where there is open water and places like farm fields to forage in.
I was able to create images of a number of species of ducks and geese including: Snow and Canada geese, Bufflehead, Ring-Necked and Lesser Scaup ducks. Some of the early migrating sparrow species put in an appearance as well. White-Throated, Song and White-Crowned Sparrows all visited our yard and feeders. I captured images of Northern Flickers, one of our woodpecker species, and some of our overwintering species such as White-Breasted Nuthatches and Northern Cardinals along some of Ottawa`s many nature areas. The first male Red-Winged Blackbirds arrived in April. The males arrive ahead of the females so that they can stake out the best territories to defend and, hopefully, attract a mate.
I also created some images of red squirrels and very cute kid goats at a farm. The later will help expand my farm animal collection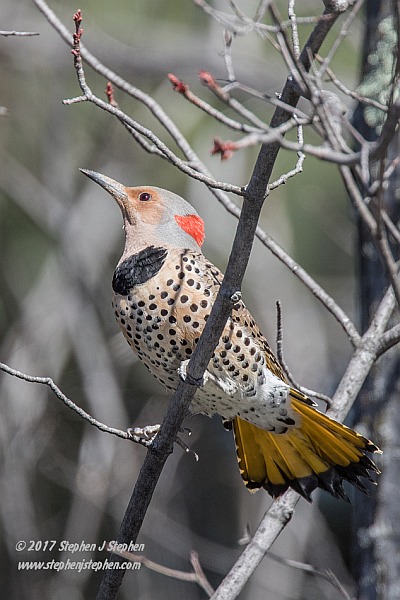 You can view more of my March and April 2017 images by clicking here.
Feb 28, 2017
Well the winter of 2016-2017 has been highly variable weatherwise. We have had plenty of snow and cold temperatures alternating with thawing periods. On this last day of February the large quantity of snow around the region seems to be receding quickly. That being said this is still Canada and we could easily see another big winter storm or two before spring arrives in ernest.
Following our great fall trip to Algonquin Park I was a bit slow getting out to do some local photography. Once I did winter birds and landscapes seemed to be my best photographic subjects as you will see in my latest collection of images. Although I had hoped to see and photograph some winter finches such as Pine Grosbeaks, I had more success with owls including Snowy, Barred and Great Gray Owls. The beautiful Great Gray Owls and Snowies do not show up around Ottawa each winter but rather during 'irruption' years when the numbers of their normal prey species (voles and lemmings) are reduced further north. We had a few Snowy Owls for most of the winter and some Great Grays started appearing around the region in the past few weeks. I hope to be able to create a few more images of Great Grays before they return to their boreal forest home further north.
In addition to owls, some of my other subjects included several of our songbirds the remain with us throughout our long winter period. Blue Jays, Black-Capped Chickadees, White-Breasted Nuthatches and Tree Sparrows are all beautiful birds in their own right.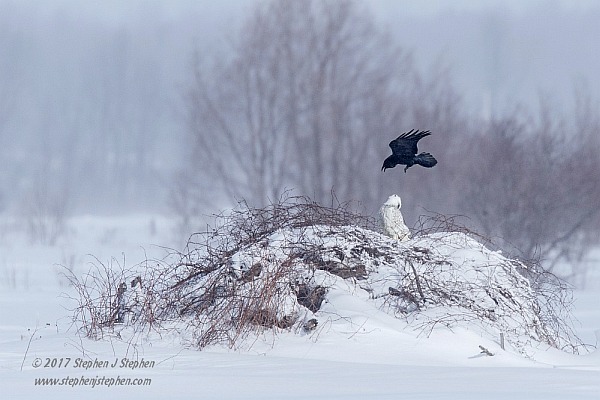 While I like creating close-up and portrait images of my subjects I believe that capturing my subjects exhibiting natural behaviours or interacting with each other can offer the viewer some interesting insights into how these birds and animals live. In the image above you can see a Raven harassing a Snowy Owl that was trying to rest on a rock pile in a farm field. Ravens, American Crows and many other bird species sometimes harass owls, hawks and other birds of prey when they find them in the hope that they will be driven off. This does occur at times but in this instance the Snowy Owl held its ground and just looked up at the Raven. It also stayed put when four American Crows arrived immediately after the Raven. Many birders and photographers have found resting birds of prey through the inadvertent help of other birds swarming the predator.
You can view more of my winter 2016-2017 images by clicking here.
Oct 30, 2016
September and October were both very good months for creating new images this year. Early in September wading birds such as Great Blue and Green Herons and Great Egrets offered many photo opportunities in the west end of Ottawa.
We returned to camp again in Algonquin Provincial Park for 10 days in late September and early October. I was hoping to see moose during the rut (mating season). The moose rut in Algonquin generally begins in last September or early October and lasts approximately 2 weeks. Last year we stayed in the park around the same dates but, despite daily outings, I didn't see a single moose. What a difference a year made. This fall I was extremely successful. In total I saw and photographed 7 moose: 2 Bulls, 3 cows and 3 calves! The most exciting time was when a big bull met up with a cow and her calf. The bull 'tested' her readiness to mate by laying his chin on her rump. She wasn't quite ready but seeing this interesting behavioural interaction was a first for me.
As always there were many other facinating things to photograph in the park including: birds, plants, mushrooms and fall scenery. I have received an incredible about of positive feedback on the image below which I call "Mist over Costello Creek". It was created by merging three identical images (with different exposures) to cover the bright, medium and dark areas of the image, something a camera sensor, no matter how good, cannot capture in a single image.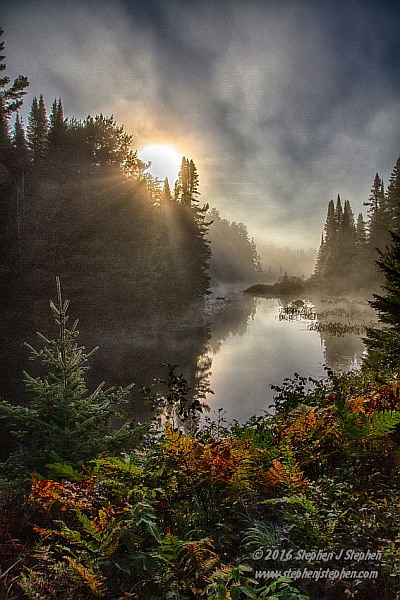 We capped off the wonderful trip to Algonquin by watching a young Peregrine Falcon locked in a life and death struggle with a juvenile gull. It had captured the gull in mid air just above the highway as we were driving past. Experienced Peregrines can normally deliver a stunning or killing blow when they make they diving attack but the young bird did not do that. As a result the two birds "wrestled" for nearly 10 minutes before the Peregrine suddenly, and unexpectedly, broke off its attack. The gull did not look as if it would survive. Nature can be harsh sometimes but it was a very rare event to witness and it's always best not to interfere.
You can view more of my fall 2016 images by clicking here.
Aug 31, 2016
During July and August we took a 5 week trip back to New Brunswick to camp and to visit family and friends. To break up the long drive hauling our trailer we stopped for a couple of days in Rivière-Du-Loup, Québec located on the south shore of the St. Lawrence Estuary. The estuary is one of the great places on Canada's east coast to view many species of whales and sea birds during the summer. This is particularly true where the Saguenay River empties into the St. Lawrence. The area is part of Parks Canada's Saguenay St. Lawrence Marine Park. The park and surrounding region has the most southernly resident poulation of Beluga whales anywhere and we were fortunately enough to see several of these small, white, toothed whales during our whale watching cruise there.
From there we travelled to Charlotte County, New Brunswick and camped in St. Andrews and on Grand Manan Island. We had lived in St. Andrews twice, many years ago, so it is always a treat to go back to re-explore the area.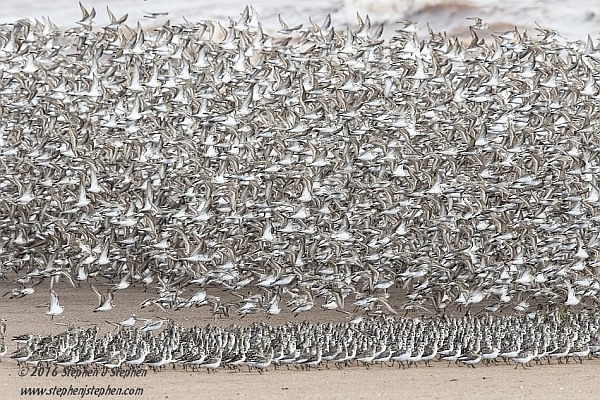 After Charlotte County we visited family and then moved onto Fundy National Park on the Bay of Fundy, near Alma, New Brunswick. I explored the park and nearby St Mary's Point. St. Mary's is within the Shepody National Wildlife Area and part of a larger Hemispheric Shorebird Reserve for the Semipalmated Sandpiper. This species, along with many other shorebirds, use the area as an important feeding and resting place suring sring and fall migrations. Up to 85% of the world's population of this species stops here. To see tens of thousands of these small birds flying by, or landing on the beach (see photo above) en masse is an incredible sight.
Such large numbers of birds attract birds of prey looking for a meal. I saw both a Merlin and a Peregrine Falcon flying over the beach hoping to catch an unlucky migrant. The sight of a predator puts the birds up into the air and they fly in tight formation by the thousands, looking like swirling smoke from a distance, as they try to confuse the hunters. One can experince the same spectacle at Johnson's Mills which is several kilometres away, as the birds fly. This location is closer to Dorchester and Sackville New Brunswick. I visited both beaches during the trip.
I also visited the Sackville Waterfowl Park in the heart of Sackville, New Brunswick. It is a wonderful place to take walks along meandering boardwalks above the marsh and observe waterfowl and shorebirds. It was my first time there but I would love to visit again especially in the spring breeding season.
To more images from our summer 2016 trip please click here.
August 31, 2015
After recovering from all the excitement of our wonderful trip to Namibia, we settled back down into our more normal summer routine back home. The images that I created were fewer but quite varied and included: landscape, reptiles, insects, mammals and birds. We had our first trip to Charleston Lake Provincial Park here in Ontario and many of the photos were created there.
We did take a quite trip back to New Brunswick to visit family and I photographed another lovely waterfall there near Fredericton.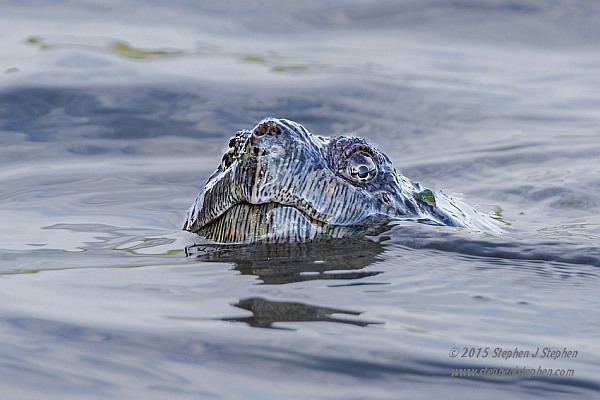 We are looking forward to another fall camping trip to Algonquin Provincial Park in late September and early October. If fortunate, I hope to capture some images of moose during the rut (mating season).
To view some images from the summer please click here.
Jun 30, 2015
Earlier this month we returned from a trip of a lifetime" photo safari to the African country of Namibia. Namibia was formerly German South-West Africa and then South West Africa. The country gained its independence from South Africa in March 1990. We spent a little over 11 wonderful days, in late May and early June, in Etosha (pronounced E-toe-sha} National Park in the northern part of the country. Etosha is a 22,750km² wildlife sanctuary and known worldwide for its great game viewing. Near it's centre is the Etosha Salt Pan some 5000km² of dry calcite. During the rainy season parts of this pan flood and the waters attract thousands of flamingos.
Over the course of our time there we stayed at lovely chalets in 3 different lodges: Okaukuejo, Namutoni and Halali. The lodges were located quite far apart in the central and west parts of the park. Each morning, shortly after sunrise, we would leave a lodge compound and do self-driven day safaris throughout the park observing birds, elephants, giraffe, lions, the endangered Black Rhino and many species of antelope at both natural and man-made waterholes. Wildlife was also often seen along the park's roads while travelling between waterholes. May and June is the start of fall, and the beginning of the dry season, in the park and all manner of wildlife visit the waterholes daily to drink.
One of the important park rules is that all visitors must return to the safety of the lodge compounds before sunset each day. This rule did not interrupt our wildlife viewing as each lodge had a waterhole that was lit up at night. Park visitors could safely observe wildlife coming to drink at these waterholes 24 hours a day. The Okaukuejo and Halali waterholes offered the best nighttime viewing. One could often see up to 7 Black Rhinos at the same time at night at Okaukuejo. Elephants, giraffes, lions, spotted hyaena and many more species also came to drink after sunset. Sunsets and sunrises were spectacular with the sun being surrounded by an incredible orange-red sky.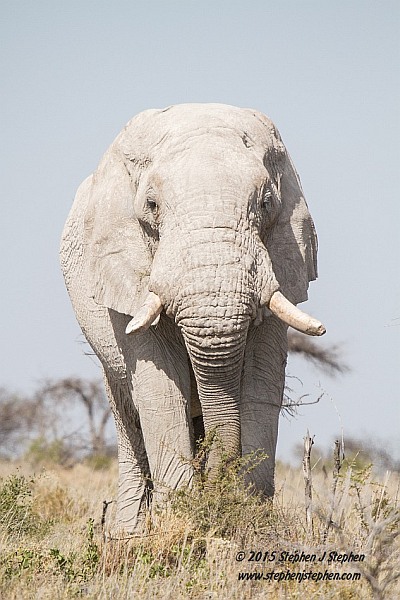 May 29 was perhaps the most memorable day for me, although every day was unique in its own way. On that day we spent 15 wonderful minutes with a handsome male leopard very early one morning at the Kalhhuewel waterhole. It was magical to have him suddenly appear out fo the bush, mark his territory, stop for a drink and then disappear again. Later on in another part of the park we saw a total of 16 lions and lionesses (in two prides) within an hour. Following that we witnessed 300-400 Springbok antelope moving en masses in the direction of a waterhole.
If you ever have the chance to visit Etosha you will love it too!
To view 2 more pages of my Etosha images please click here.
May 31, 2015
I have visited Vancouver Island in British Columbia numerous times over the years while working for Both Fisheries and Oceans Canada and the Canadian Food Inspection Agency. I took the opportunity in late April and early May to finally spend 10 days on the island exploring its scenic and wildlife beauty.
I started my trip in and around Victoria, the provincial capital of the province. Areas like West Saanich and Esquimault offered opporunities to photograph a variety of birdlife along the coastline including: Black Brant Geese, Semi-palmated Plovers, Mew Gulls and Caspian Terns.
From there I moved up the east coast of the island stopping first at Goldstream Provincial Park. Goldstream is a beautiful, primarily wooded, park with Goldstream running through it. In the springtime the forest seems to have a thousand hues of green from the many leaves, ferns and mosses. I had hope to photograph an American Dipper bird, as I had seen one there many years ago, but it was not to be. I was successful though in getting good images of Steller's Jays, River Otter and a male Red-Bellied Sapsucker, the western relative to the eastern species, the Yellow-Bellied Sapsucker.
From there I moved up to Nanaimo and spent several days there visiting coastal locations such as Pipers Lagoon Park, Rathtrevor Provincial Park (Parksville) and the shoreline near the community of Qualicum Beach. As usual Bald Eagles were plentiful and I had several good opportunities to photograph Black Oystercatchers and California Sea Lions as well.
From the Nanaimo area I took a long drive over to Tofino on the west coast of the Island. The drive through the mountains was incredibly scenic and the views were often breathtaking but there oare few places to safely pull over and create images. I had never been to Tofino before but had always heard about its beautiful beaches and the waves of the wide Pacific. I was hoping that my timing would be right as the spring shorebird migration normally begins in late April and early May. While there were a number of shorebirds including some Western Sandpipers, a new species for me, the migration was only beginning. My schedule permitted only about 36 hours in the area before I had to return to Nanaimo to rendevous with my good friend Simon Jones who is also a pilot.
Simon had previously invited me several times to come flying with him if I ever got back to the island so this time I was happily able to accept his offer. While driving to Tofino was enjoyable, flying over the mountains and viewing the stunning scenery from the air was wonderful. Our route took us from the Parksville Qualicum airport across the island to Ucluelet, up to Tofino and Nootka Sound then back over the mountains to Courtney Airport and finally Parksville Qualicum again. An incredible flight that I would love to do again!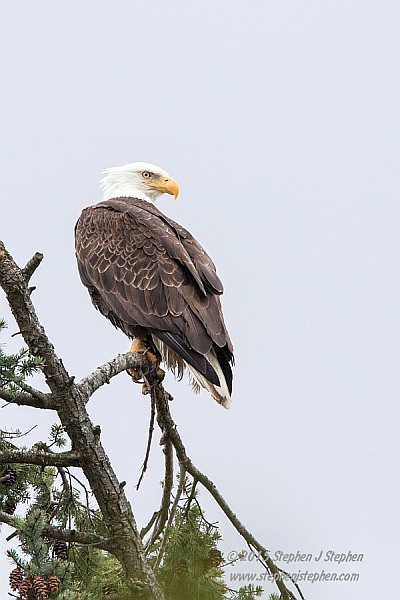 From there I spent several days staying with friends on their farm near Ladysmith which is south of Nanaimo. The farm offered different opportunities for more bird species such as California Quail, Spotted Towhee and a very special bird: a Barn Owl on a nearby farm. The Barn Owl was a life list addition for me as was the Golden-Crowned Sparrows. On my very last full day in the Nanaimo area I met up with friends at teh Deep Bay harbour and we sailed out into Baynes Sound. We visited Norris Rocks and saw Steller and California Sea Lions, more Bald Eagles, Harlequin Ducks and Pacific Loons. All in all it was a very rewarding trip and I hope to go back again someday.
To view two pages of my images from Vancouver Island please click here.
October 31, 2014
Well fall is upon us. The leaves are changing and farm harvest is almost over. In September I had the opportunity to observe a friend as he harvested honey from his bee hives. I had always wanted to photograph this activity and his invitation gave me the chance to do it first hand. The bees were very calm and cooperative after the smoker was applied but I know that this is no always the case. I was able to get fairly close to the action without once being stung.
Also in September I photographed a tiny Wood Frog in our back garden. It was a first for me but hopefully not the last. Then it was back to Algonquin Park for a few days of fall camping at the Lake of Two Rivers campground. I had never camped in the park in the fall nor had I stayed at Lake of Two Rivers. It was a very enjoyable time with cooler daytime temperatures and virtually no biting insects. There is something magical to be sitting around a campfire at night listening to wolves howl.
Although there were a lot of visitors who had come to see the fall colours, I had plenty of time to just enjoy the scenery and wildlife. I even met several of my photography friends and we spent some time together looking for subjects to photograph. I had hoped to photograph some moose during the fall rut but, like most people there, we came up empty-handed. I was able to photograph a male Black-Backed Woodpecker, a handsome Red Fox, Gray Jays, several Spruce Grouse and a majestic Great Gray Owl.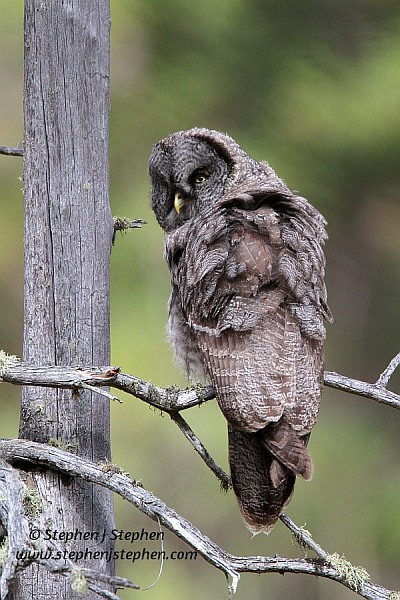 To view more of my fall 2014 images please click here.
August 31, 2014
Well our August camping trip to Algonquin Park was perhaps our best yet. My wife and I spent nearly two weeks enjoying the great outdoors. We participated in a number of interpretive walks (fungi and trees) and talks (Eastern wolves, bear and moose) hosted by park naturalists and we were also fortunate to spend a good deal of time observing the park's incredible wildlife including: Moose, Black Bears, Loons, Ravens and Spruce Grouse. We didn't see any wolves but I did make a recording of them that you can listen to here: Eastern Wolf Pack Howling.
Over the past couple of years park staff have been conducting controlled burns at the Mew Lake airstrip which has kept the area open and allowed the blueberry plants to thrive. This year's bumper crop of blueberries was incredible and attracted several families of black bears, other mammals and many species of birds. All of them, as well as many campers fed on the bounty!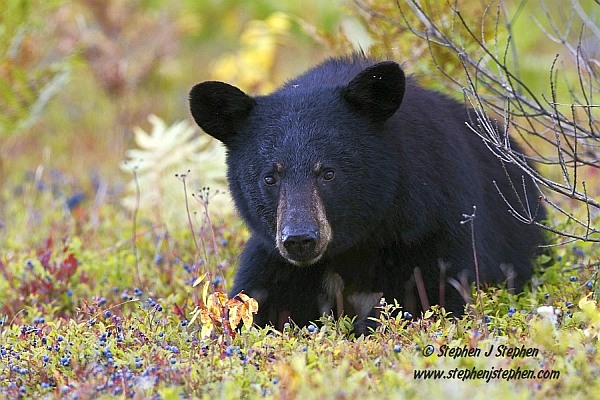 In additon to Algonquin Park also I took pictures around Ottawa as well. We are blessed to have such a variety of natural subjects to photograph here in the nation's capital.
To view more of my August images please click here.
July 31, 2014
After my extraordinary trip in May to southern Ontario, I stayed around the Ottawa area for most of June photographing a variety of wildlife, scenery.
I also photographed "First Nation" dancers at the Summer Solstice Aboriginal Arts Festival and Annual Competition Powwow in Ottawa. The native regalia was incredible and certainly reflected the pride and care taken by their owners in making them. The competition was exciting and colourful as you would expect.
At the end of June an article that I wrote an article about my southern Ontario trip and it was published on the "Canadian Nature Photographer" website. You can read my web article here: Spring in Point Pelee and Other Southern Ontario Locales.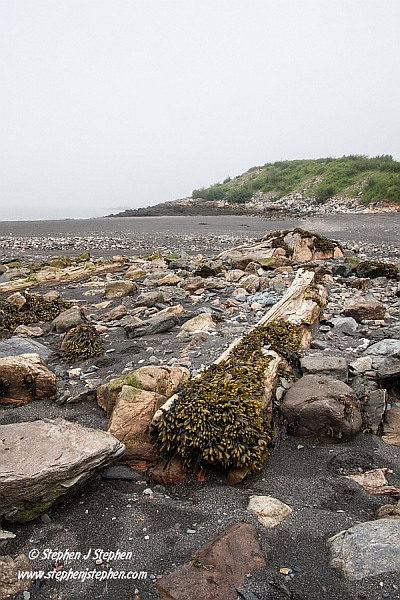 In July I spent some time visiting family back in New Brunswick and got the opportunity to photograph some of the provinces beautiful scenery like Black Beach (above) on the Bay of Fundy.
Back in Ottawa I followed a pair of Ospreys as they successfuly raised three chicks over the summer.
To view a selection of my June and July images please click here.
May 31, 2014
It's been quite a while since I've uploaded a news article. I am pleased to announce that I retired in March 2104, after nearly 27 years with the Canadian federal government. This has allowed me to have more time for my family and to do more for my photography. I took the opportunity in May to finally spend 12 days in and around Point Pelee National Park in southern Ontario during the spring bird migration. Point Pelee is considered one of the top 15 locations worldwide for birding at that time and I had been hoping to visit there for several years. I was not disappointed. In total I added 25 new species, such as the handsome Magnolia Warbler shown below, to my birding life list and got many new photos.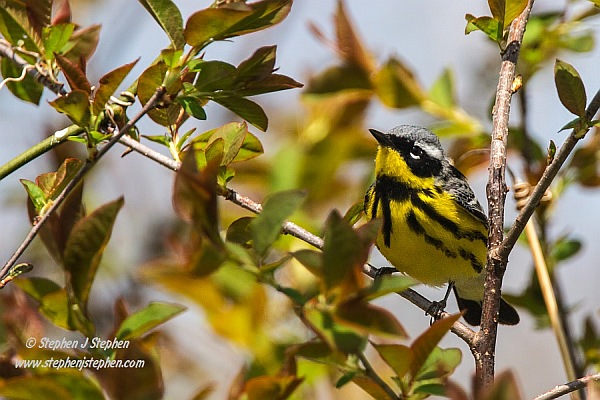 In addition to visiting Point Pelee, the most southern location in all of Canada, I spent time at nearby Wheatley and Rondeau Provincial Parks. I also visited Murphy's Point Provincial Park during the May long weekend.
To view two pages of my May 2014 images please click here.